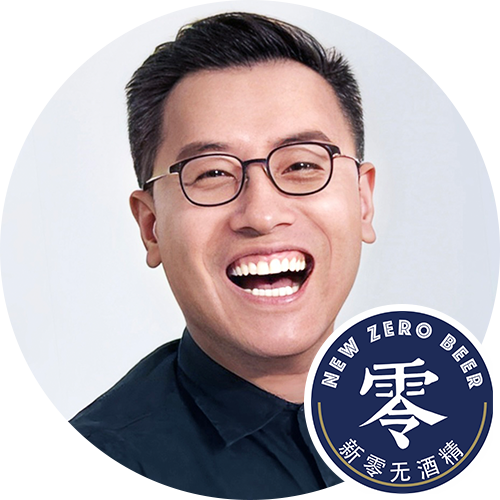 Leon Sun
Founder & CEO
New Zero Alcohol Free Beer
Leon Sun, founder and CEO of NEW ZERO AF, founded the brand in 2020. The company is focusing on the R&D and promotion of alcohol-free beer, and has applied for more than 20 related patents. NEW ZERO AF has spearheaded the food & beverage industry to establish the new category of alcohol-free beer and has quickly become the Top 1 brand of alcohol-free beer in China. Products include NEW ZERO AF Pilsner, NEW ZERO AF IPA, and NEW ZERO AF Belgian Witbier, which are widely recognized by the market and consumers.
NEW ZERO AF is committed to advocating that happiness has nothing to do with getting drunk, leading an alcohol-free healthy drinking lifestyle, and striving to solve the adverse effects of alcohol on the health of Chinese people.
Before establishing NEW ZERO AF, Leon founded SOJI hotel supply chain platform. Prior to SOJI, Leon served at IHG, Nike, Amazon, Tesco and other Fortune Global 500 companies, with various management roles. He and the IHG team was awarded the CIPS (Chartered Institute of Purchasing and Supply) 2018 Annual Award.
During his early life in the UK, he founded Epoint cross-border e-commerce platform, which provided innovative consumer goods, and became the Top 3 innovative e-commerce websites in the UK at the time with only one year since its launch.
Leon graduated from the University of Bath in the UK, with an MSc degree in Multimedia Technology.
---
Event Introduction
Channel & Supply Chain
 · 12/22 (Day 4)
Grab "The Next" Channel
14:00
[Panel Discussion] How Do New Brands and Products Go Mainstream?
From 1 to 10, from niche market to mainstream consumers, new brands and products need broader channel partners that welcome novelty. At the same time, disrupted by O2O, live-stream e-commerce, and DTC brands, traditional distributors must step up efforts to respond to new consumer needs.