Marking Awards(MA)
initiated by FBIF (Food & Beverage Innovation Forum), is a food and beverage packaging design contest organized in Shanghai since 2016 while targets the global. In a forum platform where attracts worldwide attention, Marking Awards was born to discover and praise brilliant F&B package designs, and encourage communication between local and global design power. In doing so, the awards committee aims to speed up F&B brands' packaging innovation, package functional optimization and improve their aesthetics standards, thus finally all the stakeholders can build a creative packaging ecosystem together.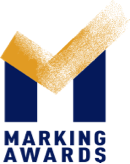 Received attention from World Packaging Organization

More than 100 matchmaking for brands and design agencies

Born for Brands, Design for Future!