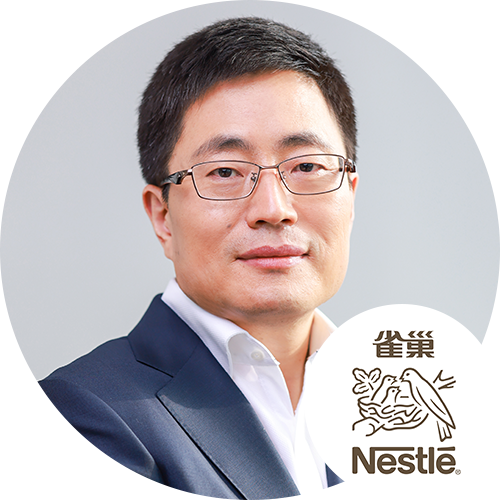 David Xiqiang Zhang
CEO, Zone Greater China, Nestlé
Executive Vice President, Nestlé S.A.
David Zhang is appointed Executive Vice President of Nestlé Group and Chairman & CEO of Zone Greater China, effective from January 01, 2022. Zone Greater China is one of the five geographic Zones of Nestlé Group, represents CHF 6 billion in annual sales as of 2020. Currently, Zone Greater China has 22 factories, 3 R&D centers, 5 product innovation centers and over 26,000 employees.
David started his career in 1995 as an Accounting Manager at Carrier Air-conditioner from 1995 to 1997, and then joined Yusai Cosmetics Ltd. in 1998 as Finance Manager. In 2000, he joined Wyeth as Finance Director of China Mainland & Hong Kong. Since 2009, he has been the Finance Director of China Mainland & Hong Kong of Pfizer.
In 2012, David joined Nestlé as Senior Operation Director of Wyeth Nutrition China of Nestlé Group. He was then promoted to Vice President of Grocery Retail Sales of Nestlé Greater China Region in 2015. Since 2017, he was appointed as Chief Executive Officer of Shanghai Totole Food Ltd. and Business Executive Officer for Food in Nestlé Greater China.
David holds a bachelor's degree in Economics from University of Shanghai Science and Technology and a Master of Business Administration at School of Management, Fudan (Hong Kong) University. He is also a Certified Public Accountant of China and a Fellow of CPA Australia.
David is married and has one son.
---