Plenary Session
· 6.14 (Day 1)
Plenary Session
· 6.14 (Day 1)
08:45
[Chief Talk] Future Consumption: Recovery, Transition, and Confidence
Consumption prosperity comes from consumers' well-being. Growth of consumer goods companies is driven by their capability of inspiring consumer happiness. What kind of happy life do consumers desire amid drastic changes? What food and beverage companies can do to build a happy life with consumers?
09:30
[Chief Talk] Ride the Wave – Crack the Puzzle in the Upstream
Quite a few companies felt powerless when things went astray due to supply chain crises in the past ten years. What companies can do to stay resilient to supply chain disruptions and ensure supply in the face of climbing inflation rate and increasingly strained energy market?
10:15
Slot Reserved for Tetra Pak
10:45
Tea Break & Food Show Tour
Plenary Session
· 6.14 (Day 1)
Technology · Transformation
11:15
[Technology Power] Technology Leverage · Business for Good
11:45
[Chief Talk] Technology Reshapes Future Business
Plenary Session
· 6.14 (Day 1)
13:30
[In-depth Dialogue] Global Macroeconomic Insights
Global economic growth in 2023 is projected to slow down to 1.7%, according to the World Bank's forecast, the slowest pace outside the 2009 and 2020 recessions in the past three decades. Amid widespread inflation and slower economic growth, emerging markets and developing countries are hindered by multiple factors. What are the future trends of supply chain, energy, commodities etc., as pandemic control is normalized around the world?
15:50
Tea Break & Food Show Tour
15:50
Centurial Changes vs National Confidence: To Be A Watchmaker of Chinese Brands
16:00
[Chief Talk] Resilience · Growth: The Know and How about Navigating Through Cycles
Dairy Talks
· 6.15 (Day 2)
Hit New Category
09:00
Morning Milk
Daily milk intake of 300-500g is specially recommended in the Chinese Dietary Guidelines 2022. Have you drunk enough milk?
09:15
Full-View Insight The Dairy Industry in New Times
The dairy industry is going through structural changes amid shifting competition landscape, with more opportunities emerging in certain segments.
09:45
See a Wider Dairy Market
Besides ToC, ToB could also be sweet.
10:15
Tea Break & Food Show Tour
11:00
How the Great Stays Great
It is learnt that both Nestlé and Yili are ambitious in new products this year. It is time for the giants to step up efforts as consumption continues to recover.
11:30
Dairy x AI: What Does Falling in Love Taste Like?
NotCo is an amazing company that analyses the organoleptic composition of milk and uses AI to match plant ingredients to make a product that is consistent in taste. The company is also said to be working on products with the taste of falling in love. What does falling in love taste like? Let's ask their AI chef GIUSEPPE.
Dairy Talks
· 6.15 (Day 2)
Hit New Category
14:00
Cheese in the Chinese Way
Make Cheese in the Chinese Way in the Chinese Market.
14:30
Natural Cheese: Wait for the Right Winds
Just like waiting for a breeze to take aroma afar, natural cheese waits for an opportunity to take off in China.
15:00
Love at the First Bite | The Fourth Sense of Cheese
Apart from the appearance, aroma, and taste, the touch can make a lingering memory. How can cheese be so soft and fine?
15:30
Another Definition of Cheese
What is cheese? It can be little cubes of milky flavor, or a cup of drink that makes you happy, or a flavor!
16:00
Tasting Moment: 3, 2, 1, Cheese!
Dairy Talks
· 6.16 (Day 3)
Hit New Category
09:00
Morning Milk
Daily milk intake of 300-500g is specially recommended in the Chinese Dietary Guidelines 2022. Have you drunk enough milk?
09:15
Niche · Mass
Should regional dairy brands go nationwide? How should premium dairy brands grow their consumer base? Let's talk about how to cross the gap between the niche and the mass.
09:45
Product Technology VS. Perceived Value
Here starts the exploration of the balance between technology and perceived value by Chinese consumers.
10:15
[Panel Discussion] What is the Next Growth Driver for the RMB 300-billion-scale Liquid Milk Market?
It is hard, and it has to be done.
11:00
The Story of Greek Yogurt in China
Greek yogurt is not new to consumers. With new players joining the game, what waves will the newcomers make?
11:30
The Odyssey of Functional Yogurts in China
14:00
When Dairy Products are Not Just Dairy, Nutrients Come under Spotlight
As a great source of nutrients, dairy products offer more nutritional possibilities apart from the good flavors.

14:30
Progress: Breast Milk Study for Infant Formula
15:00
[Panel Discussion] The Comeback of Adult Formula Milk
15:45
The First Cup of Milk for Middle-aged and Elderly People
It seems that formula milk for the middle-aged and elderly people has not been made a necessity despite that silver economy has been discussed for many years. The consumer habit is under development. Who will offer the first cup of milk to the middle-aged and elderly consumers?

Snack & Baking
· 6.15 (Day 2)
Make Snack Delicious And Fun
09:35
[Dialogue] Build Brands Long, Refresh Experience Often
It is hard to build a long-lasting brand, but some have made it. Brand building and user experience, among all efforts, matter most.
10:35
Break Time
The New Products You Should Never Miss
10:50
[Panel Discussion] Sweet Business of Candy Makers
What makes candy a sweet business when it is getting harder to please consumers' tastes and adapt to complex market?
11:40
From Medicine to Consumer Health | Change is Happening
Snack & Baking
· 6.15 (Day 2)
Make Snack Delicious And Fun
14:00
The Omni-channel Strategy of Snack Food Companies
Corporate strategies of snack food companies are re-assessed in the perspective of channels.
14:30
The Omni-channel Instructions for Snack Companies
15:00
From Hundreds to Thousands, why is It So Hard to Take Regional Bakery Stores National?
The DNA of bakery industry is ridden with molecules called "complexity." What does it take for bakery brands to hit ten-thousand stores?
15:30
The Hubbub around Physical Snack Food Stores
16:00
Roasted Snacks Freedom—Seeds and Beyond
The secret behind the booming business of roasted snack food stores is not just seeds.
Snack & Baking
· 6.16 (Day 3)
Make Snack Delicious And Fun
09:05
Tracking Snack Innovation
There is always something new in consumer snacking trends, but innovation is a lasting theme. It is key, therefore, to align snack innovation with industry outlook.
09:35
The Science of Dietary Approach to Life Nourishment
When savvy young consumers start to yangsheng, self-cultivation practices aimed at enhancing health and longevity, the Chinese dietary approach to "life nourishment" wins a broader consumer base and is expected of higher product standards. Selling concept is already water under the bridge to health-nourishing food brands.
10:05
Tasting Time: This is Not a Market, But Shelves
10:50
The Myth and Reality of Super Foods
Will super foods bring super growth?
11:20
"Big" Health, "Big" Growth
It has been harder and harder to please consumers since snacks came into omni-channel competition. But one thing is crystal clear -- consumers are paying more attention to the nutritional, functional and health attributes of snacks under the mega health trend. With boundary of snacks expanding and target consumer groups growing, what would be the game changer for brands? Health, health, still health.
14:00
Snacks for Adults Need to Be Fun, Too
To buy or not to buy? When price is not the any determinant anymore, winning the hearts of consumers becomes increasing important. From the sound of the crunch of potato chips, beautifully designed creative ice pops, to super engaging candy toys, it seems that the fun element matters no less in snacks for adults.
14:30
[Panel Discussion] The Boiling Market of Frozen Confections
The frozen confections market has seemingly never cooled.
15:15
Interactive Tasting Kraft Lunchables: Create An Imaginative World with Crackers!
Tasty towers, sweet rockets, crunchy cats … imagine and build your own "cracker wonderland" with crackers. Here we build with crackers and eat building bricks!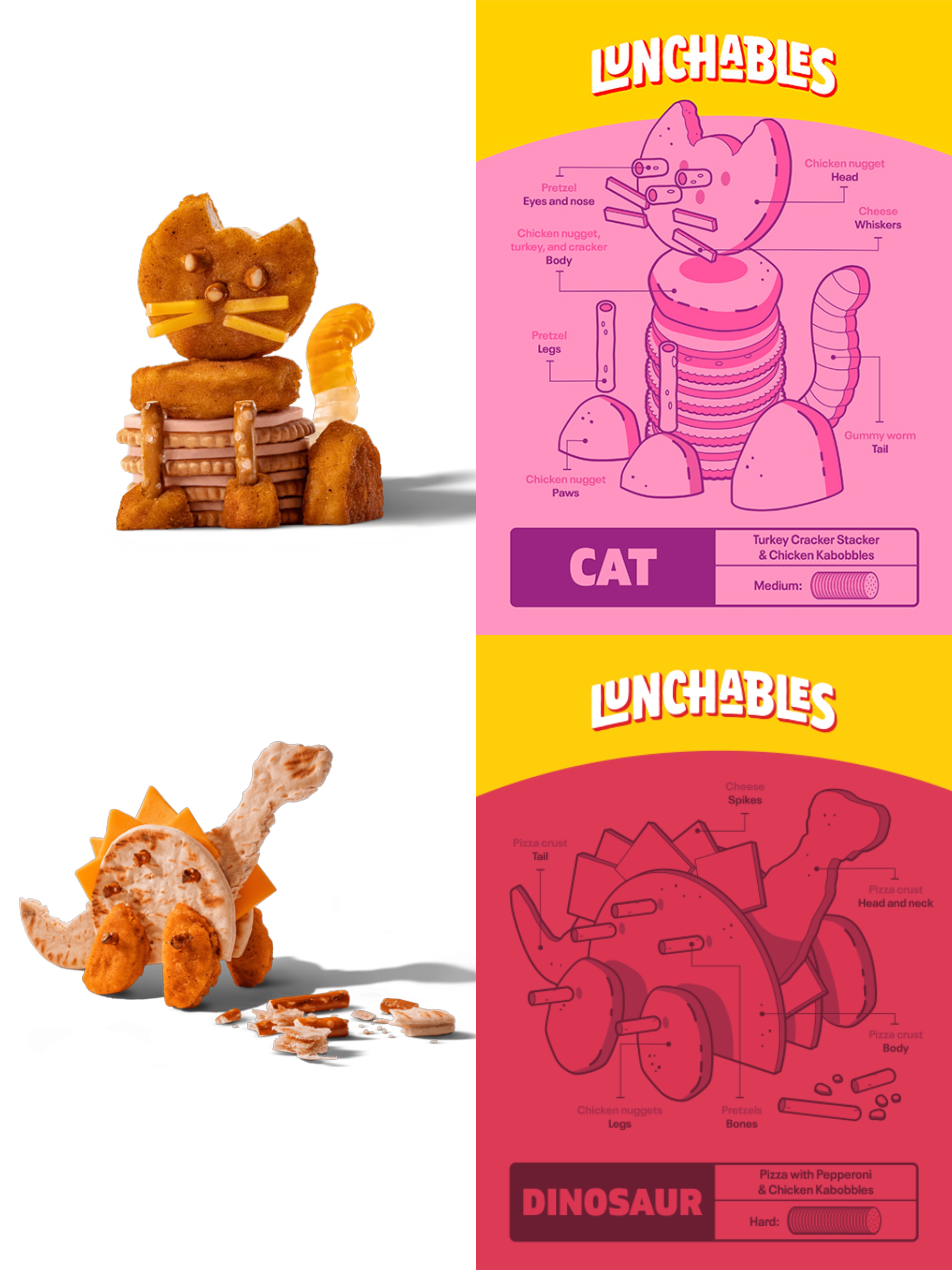 Drink Talks
· 6.15 (Day 2)
Wow, Drink It Up!
09:05
"New" Consumers: Do Drinks Only Get Business from Young Consumers?
As demographic structure continues to evolve, what kind of drinks can stay with consumers for a lifetime?
09:35
ESG of Bottling: Making Drinks for the Next Generation
From making the next-gen drinks to making drinks for the next gen.
10:05
A New Carbonated Scenario: A New Attempt by PepsiCo
As sparkling drinks grow fast, vending machines for sparkling drinks offer a more sustainable option for both brands and consumers—fit for new scenarios, personalized experience, and less plastic...
10:45
Tea Break & Food Show Tour
11:30
Comeback of Channels: Small and Steady Moves
There is no shortcut in building channels as the lifeline of beverage companies.
12:00
Win on Details: The Last 1% Matters
All the beverage products that have survived the fast-iterating market have been refined time and time again throughout product development. The last 1% of coming face to face with consumers is particularly important. From frosted packaging for hot drinks, capacity tailored to channels, to localized development...It takes both meticulousness and agility.
Drink Talks
· 6.15 (Day 2)
Wow, Drink It Up!
14:00
[Panel Discussion] Functionality as A Plus: Heavy R&D Behind Mild Yangsheng
What hardcore technologies shall be used to please mild-yangsheng consumers?
14:30
Super Fruits: The Next Growth Driver for Juices?
Bain statistics show that juices inject great momentum to beverage market: in the first three quarters of 2022, both sales volume and average price of juices in China went up, with revenue hitting over 20% growth against a downturn market. As super fruits gain popularity this year, what more to expect from juices?
15:00
Tea Break & Food Show Tour
16:00
Trace the Origin: From Coconut Trees to Table
Thick coconut milk, coconut milk latte, coconut water...More and more coconut-based products have penetrated everyday scenarios. What are good coconut drinks from?
16:30
Sensorial Technology: If by Smell You Were Deceived
If by smell you were deceived,
Don't be dismal, don't be wild!
In healthy drinks, sugar can be less.
Merry days will come, believe.
—Written by Stress, Drinks R&D
Drink Talks
· 6.16 (Day 3)
Wow, Drink It Up!
09:05
More than A Cup of Coffee
Resident baristas put distinct flavors within everyone's reach.
09:35
Cutting-edge Technology: Molecular Coffee
Coffee that is made without coffee beans.
10:05
Tea Break & Food Show Tour
10:50
Special Ideas behind Special Blends
Lemon slices in cups, rosemary stems decorating mugs—every detail of a cup of special blend coffee enriches sensorial experience. This is why special blends mean more than "good tastes".
11:20
[Panel Discussion] Yunnan Coffee: Back to Where the Wind Comes From
Coffee brands such as Starbucks, Nestlé, Manner, etc., have launched coffee products based on Yunnan beans one after another. All of a sudden, Yunnan becomes a strategic position for coffee brands. Why not go back to where the wind comes from and see what is going on about Yunnan coffee?
14:00
Crack Homogeneity: The Special Talent of New Tea
Consumers start to pay more attention to brand culture and product customization when market is flooded with new tea. What new tea brands should do to highlight brand differentiation and exhibit their special talents in such circumstances?
14:30
New-style Tea House: The Third Space of Chinese Tea
15:00
[Panel Discussion] New Retail for Tea: From Products to Channels
What are the new models for the traditional tea industry?
- Product differentiation and upgrading
- Channels: User cases underpinned by experience
YoungCohol
· 6.15 (Day 2)
Keep Alcohol Engaging
09:05
Spirits and Economy Reflected by Secondary Market
Spirits possess multiple attributes in China – consumption, investment, culture, etc. To understand consumer purchases of spirits as consumer goods is to some extent restrictive. A perspective from the secondary market allows us to see more.
09:35
[Panel Discussion] Integration of Channels: Offline Retail is King
But is the offline still the same with bars, convenience stores, O2O…?
10:20
[Interactive Tasting] Flavor: A Universal Language
How to allow consumers from different cultural backgrounds to appreciate the inner qualities of spirits by leveraging flavors?
11:15
[Workshop] Design: The First Glimpse of the Culture of Spirits
What is the role of design to convey stories behind spirits to consumers at the first sight?
14:00
[Interactive Tasting] Sake: The Fence Does Not Stop Scents of Flowers in the Garden
As a traditional alcoholic drink in Japan, how does sake manage to rejuvenate in other parts of the world?
15:00
Tea Break & Food Show Tour
16:00
[Interactive Tasting] Stories of Wine Producing Regions: Notes of the Land
To understand the land by its wine.
YoungCohol
· 6.16 (Day 3)
Keep Alcohol Engaging
09:05
[Panel Discussion] Youth Insights: Stepping into 30s, Is Moutai on the Table of the 1990s Gen?
Modern Youth: Early Maturity on One Side and Delayed on Another
09:45
[Panel Discussion] Sheconomy in Spirits: From She Power to Sheconomy
What do female consumers think differently about alcohol consumption?
10:30
Tea Break & Food Show Tour
11:15
[Panel Discussion] Party Time: A Chance of Revival at Social Events
How to be the Coca-Cola in alcoholic beverages that accompany consumers at every unforgettable gathering?
12:00
Lunch Break & Food Show Tour
14:00
Responsible Drinking: Relativity of Health
When rational drinking is compounded with post-pandemic stronger health awareness, what kind of consumers that spirits companies are dealing with exactly?
14:30
Product Upgrade [Panel Discussion] Beers: Saturated or Unsaturated? Quality Matters
15:15
[Brand Innovation] Spirits + Flavors: Collect Life Stories
Lars, previously the head chef of Michelin 3-star restaurant Noma, is the master mind behind the self-described flavor company. Through the vehicle of spirits, new definitions are created around flavors to tell individuals' life stories.
Condiment & 3R Food
· 6.15 (Day 2)
New Taste That Spice Up New Lives
09:05
Is It Still a Big Thing? New Insights and Opportunities behind Becoming "Household Master Chefs"
Will there be less cooking at home when lockdown is over? What changes merit expectation on consumer behaviors and preferences?
09:35
[Panel Discussion] How to Drive Growth with the Founding Values When Hot Money Cools Down?
Tremendous changes are emerging on consumer goods investments this year. Returning to the nature will be the key topic for catering, condiments and 3R foods? How to initiate to grasp growth opportunites?
10:20
[Panel Discussion] What Is Core Value of 3R Foods Without Hype?
Compound condiments, raw materials, equipment, or packaging? What matters most for 3R foods competition?
11:05
Tea Break & Food Show Tour
11:30
The Quest for Umami: Not Just Chicken Bouillon for Upgraded Umami
Higher requirements for umami need both technology upgrade and innovative umami products. What technical innovations are available to upgrade chicken bouillon? Apart from chicken bouillon, what technology can help compound condiments deliver better umami?
12:00
Are "Slimmed" Condiments Still Tasty?
Less salt, less sugar, and less fat. Will condiments become less tasty? No, we have the answer today.
14:00
Bring Exotic Flavors Home
Tom Yum, sukiyaki, Italian cuisine...exotic flavors are coming up quietly. Is it possible to bring authentic flavors home in the form of 3R foods?
14:30
[Panel Discussion] Grow Brand Impact by Leveraging Geographical Indications
The vastness and abundance of China have cultivated not only eight cuisine styles but also products marked by over 2400 geographical indications. How can a geographical indication, as the name card of nature, be leveraged to grow consumer base and build successful brands in the realm of condiments and 3R foods?
15:15
Tea Break & Food Show Tour
15:45
Decoding the Taste Profile of Best-selling Flavors
Sour, spicy, sweet, umami...those flavors are the building blocks of dining experiences that we are so obsessed with. Is there a secret pattern behind all the big trending flavors?
16:15
[Panel Discussion] Versatile Spiciness
Spiciness is a top celebrity among the primary flavors in the Chinese cuisine. Spiciness can be different in multiple ways. What kind of taste profile of spiciness can be crafted to make it both satisfyingly pungent and addictive?
Condiment & 3R Food
· 6.16 (Day 3)
New Taste That Spice Up New Lives
Beyond Deliciousness: Building Good Business
09:05
High Consumption in Lower-tier Cities
There is great business potential in lower-tier cities. What are the consumer behaviors and habits in lower-tier cities where the market is not yet saturated? How to set up channels? Is price war the only way to grab shares in lower-tier market?
09:35
[Panel Discussion] High-flying 3R Foods in Small Towns
Rural catering service, group meals, farmer's markets...There is no lack of opportunity in distributing 3R foods to lower-tier markets.
10:20
Tea Break & Food Show Tour
10:50
[Panel Discussion] Noodle Business: Big Opportunities Behind Affordable Chained Quick Meals
Quick meal shops, offering noodles mainly, are popular among consumers and investors thanks to its low cost per head, high standardization, and easy duplication. Is it a favorable wind that can help compound condiments and 3R foods take off?
14:00
Condiments Going Overseas
14:30
Observe and Observe Again: Use Exotic Flavors in the Local Way
How can foreign products maintain their authenticity in the Chinese market?
15:30
A Big Dream Behind A Small Jar
There is a stronger demand for "temporary tables" as in contexts like take-aways, trips, family hotpots, etc. One-person dining has increasingly high occurrence. Responding to these trends, sauces of various flavors in small portions, are introduced. The size gets smaller, but this means tremendous changes in strategies of R&D, distribution, branding and marketing.
16:00
[Panel Discussion] From Whims to Repurchase: The Journey from Building A Product to A Brand
TikTok, Taobao, channels, brand platforms...whichever is the path for brands to grow from 0 to 1, product takeoff is just the first step, and the real goal is to win steady repurchases. That is when the brand impact is put to test.
Ingredient
· 6.15 (Day 2)
Explore The Next Star Ingredient
09:10
[Innovation · Opportunity] Food Ingredients Outlook
09:40
[Panel Discussion] The Last Barrier of Functional Foods
What is the biggest challenge to functional foods? Restrictions brought by advertisement regulations are way ahead of others. How should brands and suppliers deal with stringent advertisement regulations?
10:25
Tea Break & Food Show Tour
Ingredient
· 6.15 (Day 2)
Explore The Next Star Ingredient
Potential Stock After Recovery
10:55
[Panel Discussion] Challenges to Boosting Immune System
Never to be tested positive for Covid again! Ways to strengthen the immune system become a trending topic among consumers. What immunity supplements are available? What may hinder them on the way to market?
11:40
The Dance with Bacteria on Ice and Fire
Probiotics in sausages, cake, ice cream...how many possibilities do the bacteria in food and beverage?
14:00
Immunity New Star—The AB Side of the Postbiotic
Probiotics are not yet old, but postbiotics have arrived. In the field of intestinal health, postbiotics has become a new force with great market prospect. In this era of national health, we have to say "NO" to "flu" and "allergy"!
14:30
Slot Reserved for Vitamin D
15:00
[Panel Discussion] What Blew away My Brain Fog?
Aging, fast pace of life, information over-loading, long recovery after Covid infection...our brain needs a storage clean-up!
15:45
Tea Break & Food Show Tour
16:15
[Panel Discussion] What Makes Mushrooms A Top Ingredient?
Global sales of mushroom in 2021 grew 16.1% compared with 2020, according to Presence, a U.S. company in the food industry. It is estimated that the global market value of mushroom will hit USD 19.33 billion by 2030. What do people see in mushroom that attracts a ten-billion market? Is it a magic one-for-all product – immunity improvement, brain health, and emotional management?
17:00
GABA Innovation Goes beyond Sleep
In 2023, GABA benefits not only sleeping but also mood, beauty, and sports nutrition! How many surprises GABA has for us?
Ingredient
· 6.16 (Day 3)
Explore The Next Star Ingredient
Addition and Subtraction of Ingredients
09:05
[Panel Discussion] Trust Crisis of Sugar Substitutes: Lower-sugar Recipes Need to Be Better
Sugar reduction remains a key tone in 2023. However, consumers are scared off by complicated ingredient names. As more brands claim to upgrade recipe with lower sugar content, who will stand out and offer a better choice?
09:50
A New Solution to Weight Management and Blood Sugar Offered by Dietary Fiber
Scientists at Tate & Lyle have seen in a large number of studies that Asian people exhibit a higher risk of developing diabetes, and China is one of the most affected areas. Many researches show that dietary fiber seems to be a key factor in controlling diabetes. How to manage weight more effectively? What kind of dietary fiber can help lower the risk of diabetes? Where else can dietary fiber play a role?
10:20
1+1>2: When Probiotics Meet Fiber, What Will Happen?
10:50
[Panel Discussion] The Future of Additives: Technology, Yes, But No Dark Ones
Additives are both the soul of the food industry and evils in consumers' eyes. How many additives have been replaced by natural ingredients out of consumers' strong awareness of heath? What is the right way for brands to communicate with consumers about additives?
11:35
Ingredient List Twins
Mature contract manufacturing renders similarity in the ingredient list of products from different brands. However, the same ingredients in the same sequence could mean quite different things when dosage differs. How can brands stand out from all the product twins resulted from contract manufacturing?
Ingredient
· 6.16 (Day 3)
Explore The Next Star Ingredient
14:00
Plant-based Yangsheng among Young Consumers
Plant-based products are more than plant-based meat and milk. What are the high-potential applications of plant-based products to be developed? In no shortage of animal protein, why do consumers put their eyes on plant-based products?
14:30
Reshaped Understanding of New Proteins
Ingredient
· 6.16 (Day 3)
Explore The Next Star Ingredient
15:00
Play Food and Drinks Like Playing Lego
Imagine, will you be interested in building ingredients into food combinations just like playing Lego pieces?
15:30
[Panel Discussion] What More AI Can Offer to Our Palate?
Ingredient selection, recipe engineering, product test, ingredient discovery...Is there a boundary to the capabilities of AI?
Channel & Supply Chain
· 6.15 (Day 2)
Laying A Solid Groundwork
09:05
The Operation Way of Multi-potential Convenience Stores
Meiyijia, NewJoy, Today, Fook, and more community convenience store brands have gained fast growth in recent years. What are the next steps in products, supply chain, store operation, organization, and digitalization after gaining scale?
09:35
eB2B: Channel Evolution and Retail-Supply Collaboration in the Perspective of Convenience Stores
Stores in the capillaries of cities mean a lot to making consumers' life convenient. Store downsizing is one of the key solutions taken by retailers to cope with channel evolution.
What are the changes to expect in consumers and channels in the future in the eyes of Yueheji, a platform that has served 26,000 convenience stores? How can brands and channels distribute goods faster? What are the underlying capabilities and collaboration models that are required?
10:05
The Surge of Snack Variety Stores
What is the differentiated value provided by snack variety stores compared with small-and-medium supermarkets and convenience stores? What are the opportunities and challenges? What does it mean to snack brands?
10:35
[Panel Discussion] What is around the Corner for Small Shops?
Chained operation, cross-region management, national expansion, development in lower-tier cities...
11:25
Run into Consumers' Life: Press ahead with the Discounts Model
The Journey in China of the King of Discounts
14:00
Instant Retail: How to Boost the Efficiency of Existing Channels When Consumers Get One-click Delivery?
14:30
[Panel Discussion] Who Will Be the Big Ones in Instant Retail?
Instant Retail Falls in the Sight of Leading Internet Companies, e.g. JD Home Delivery, Meituan Flash Buy, TikTok Local, TikTok Supermarket, and TikTok Take-away. What is the outlook?
Channel & Supply Chain
· 6.15 (Day 2)
Laying A Solid Groundwork
Merchandise and Operations
15:15
The Living Law of Old Species
What is the core competence of retailers who have time-tested operations and performance?
15:45
From Membership Store to Membership Thinking
The core of membership stores is absolutely not charging a membership fee, but offering higher quality products at higher value deals.
16:15
[Panel Discussion] Product Power Competition among Physical Stores in 2023
Channel & Supply Chain
· 6.16 (Day 3)
Laying A Solid Groundwork
Merchandise and Operations
09:05
Taste Good, Work Well, Good Deal: How Great Private Labels Come into Being
Good taste, good performance, and competitive price...This is how consumers perceive great private labels. When product power weighs more in retailing, how to build a high-quality private label as part of its business moat?
09:35
Private Label Observations: Practices, Challenges, and Mistakes
Many retailers have made attempts at establishing their own private labels, but very few of them have made a mark on consumers' minds. What did the obscure ones do wrong? What are the pitfalls of building private labels?
10:05
Production Innovation at the Base and Waist
Product innovation falls more on tier-one cities, e-commerce, and omni-channels, while that for physical channels and for tier-3-and-4 cities seem to be neglected. The latter weighs more in the total market volume, but supply-side innovation is far behind growth in demand. While the brands do see opportunities, challenges also come along.
10:35
Tea Break & Food Show Tour
10:45
Integrated Supply Chain Management on the Mobile: Say No to Stockout and Redundancy
"A smart brain" manages an integrated supply chain with capabilities in demand forecast, inventory visualization, and smart decision-making.
11:15
How does eRTM Lubrates Gears of Retailing?
The efficient functioning of B2C e-commerce unveils the benefits of digital tools to brands. However, B2C e-commerce is not the biggest market in the food and beverage industry. Brands are now shifting to digitalization in traditional retailing channels, hoping to run traditional retailing faster with eRTM.
How do brands plan to achieve this? How to mobilize B-end partners and build a new ecosystem?
14:00
[Panel Discussion] The Last Mile of Digital Revolution
Channel & Supply Chain
· 6.16 (Day 3)
Laying A Solid Groundwork
Supply Chain Construction
14:45
Find the Right Way: Systematic Engineering for Product Innovation
Top-down: Put characteristic raw materials, ingredients, and technology together and launch new products to the market.
Bottom-up: Innovate products reversely based on market and consumer insights.
15:15
How Has Yum China Deployed the Supply Chain in China to Service over 12,000 Restaurants and Generate Tens of Billions Revenue
So far Yum China has set up presence in all provinces and autonomous regions in mainland China. Apart from well-known suppliers in the upstream for raw materials, Yum China has established its own supply chain management system with massive resources invested. Yum China has taken a series of key actions since 2020: multiple supply chain support centers, proprietary cold chain companies, strategic investment in key suppliers...
15:45
Lighthouse Network: What does A Super Cool Supply Chain Look Like?
The Global Lighthouse Network is a World Economic Forum initiative put forward in 2018 in collaboration with McKinsey & Company. To be a site selected for the Lighthouse Network, which means to be advanced, lean, and agile along the supply chain and an industry benchmark in value creation, is a goal that many manufacturers strive to achieve.
16:15
[Panel Discussion] Investors Talk: "How Does A Disruptive Player Build A Competitive Supply Chain"
The importance of supply chain speaks for itself to make a business competitive. Compared with big players who already have established systematic advantages in supply chain, companies at their young age need to find a supply model that suits their phase of development.
In the discerning eyes of investors, what is the right way for a great player to build its own supply chain?
Pack Talks
· 6.15 (Day 2)
From Appealing to Branding
Pack Talks
· 6.15 (Day 2)
From Appealing to Branding
Sustainable Future | Packaging Strategy
09:00
[Panel Discussion] Sustainable Packaging Strategy Blueprint for Food Companies
How to see through haze and implement sustainable packaging strategies that are practical to brands amid all the hype around Carbon Neutral and Sustainability?
09:45
Sustainable Brands: Resonate with Young Consumers
How to engage consumers deeply in co-creation and communication around sustainability by taking packaging design as the vehicle and make sustainability an opportunity for brand transformation?
Pack Talks
· 6.15 (Day 2)
From Appealing to Branding
Sustainable Future | Practical Approaches
10:45
How to Ensure Alternatives to Plastic are Truly Sustainable?
There is a lot to learn from the complaints about paper pipes. Why do some plastic replacement initiatives seem to begin the work from the wrong end? What makes a qualified plastic replacement product, taking all into consideration—production, transportation, recycling, cost, carbon emission, and customer experience?
11:15
[Panel Discussion] Big Packaging Recycle Plans in Small Labels
From negligible labels starts the first step of packaging recycling.
Pack Talks
· 6.15 (Day 2)
From Appealing to Branding
Creative Boost | Sourcing Creations
14:00
Creativity Show I - Small Ideas Make Huge Differences
14:30
Creativity Show II - Evolution Triggered by Technology
15:00
[Master Class] Hope in the Hopeless: Creativity Breaks Dilemma
There is never enough time, resource, and experience when the world is changing ever faster. How to break the dilemma with creativity and different perspectives?
Pack Talks
· 6.15 (Day 2)
From Appealing to Branding
Creative Boost | Strike with AI
15:30
[Interaction] AI Designer is Making A Splash
Four quality images can be generated per minute by AI on Midjourney, a design software. Plug AI, an AI-powered packaging assessment tool developed in Japan, can even forecast how popular a packaging design will be. How powerful are generative AI exactly?
Come to try it live!
16:00
A Powerful Rival or Add-on?
Your AI-powered design extension is ready! How has AI been used as an add-on by geniuses to make work better and faster?
16:30
[Future Insights] AI Invades Packaging: A Revolution beyond Imagination
When everyone seems to be able to create like an artist with AI's assistance, will this change the game in design? What would be the best balance to strike with AI for brands and designers?
Pack Talks
· 6.16 (Day 3)
From Appealing to Branding
Experience Maker | Thinking
09:00
[Master Class] In-depth: Use Packaging Smartly as A Touchpoint
Does packaging have more untapped potential as the first touchpoint with a brand? How to connect emotionally with consumers by using packaging smartly as a touchpoint?
09:30
Roadmap for Packaging Experiential Design
How does design thinking navigate consumers to the ultimate experience? You will need this roadmap.
10:00
Tea Break & Food Show Tour
Pack Talks
· 6.16 (Day 3)
From Appealing to Branding
Experience Maker | This Effect Exactly! But How?
10:30
Going Premium: How to Build Tactile Value in Packaging Finish
How do you get rid of the traditional role of packaged products and enhance the emotional value the brand can provide by penetrating into a more in-depth emotional connection with people through design?
11:00
What Packaging Makes People Crave for Food?
To see is to crave. I want to try it now!
11:30
Too Long to Read? How to Convince Ingredient-savvy Consumers with Label Design?
More consumers read ingredient lists amid stronger health awareness. It makes brands to scratch their heads to demonstrate ingredient advantages through a small label. How to make product information easy to read, understand, and recognize through good label design?
Pack Talks
· 6.16 (Day 3)
From Appealing to Branding
Brands' Design Literacy | Ideation
14:00
[Master Class] Tangible & Intangible: From Brand Symbols to Product Packaging
Working on the intangible means to imagine beyond a traditional framework, while working on the tangible is to make happen with practical solutions.
14:30
[Panel Discussion] The Change Ongoing: China's Branding Design in Future
When Chinese food brands start to go to overseas markets, what should the design work of Chinese brands deliver to support a stronger national confidence and performance in the global arena?
Pack Talks
· 6.16 (Day 3)
From Appealing to Branding
Brands' Design Literacy | Brand Value
15:15
More Authentic Value: What are Effective Innovations for Packaging Design?
It is never innovation for innovation's sake. How to measure the real value of innovation?
15:45
Long-lasting Design: Allow Brands the Time to Grow Like Trees
When a brand completely redefines itself every two years, how can it expect to be a centurial brand like Coca-Cola?
16:15
[Master Class] Creative Process of Design: How is Brand Asset Built Step by Step
Marketing Talks
· 6.15 (Day 2)
Growth and Beyond Growth
Foresee "People" and "Place"
09:05
Consumption in Counties
As counties gain weight in societal and economic development, they are also becoming a cornerstone in consumption.
09:40
E-sports, Designer Toys, Horoscope, Camping, Han Costumes, JK Uniforms, Lolita...What are Trending among the New Generations?
From the rise of outdoor sports, agender movement, to local cultural symbols represented by Ding Zhen and Lu Xian Ren, let us walk you into the realm of our new generations.
10:15
Tea Break & Food Show Tour
10:40
[Panel Discussion] Chinese Food Brands Going Global
The context of access to international market has changed dramatically from export trade to building a global brand. What are the opportunities and challenges in taking a brand overseas? How to plan the route?
Marketing Talks
· 6.15 (Day 2)
Growth and Beyond Growth
Roll the "Gear" of Business
11:30
Back to the Essence of Business, How to Boost Brand Effectiveness through Operation?
14:00
From A Hidden Champion to A Segment Leader, How Does Junlebao Achieve Continuous Growth?
14:30
[Panel Discussion] Effective Connection with Gen Z
As Gen Z step into workplace and have more to spend, their passion for food and beverages is unleashed further. This generation is willing to embrace new products and brands, as well as pay for tastes from childhood memories. At the same time, however, they have the countermeasures to cope with fascinating marketing tricks.
Marketing to Gen Z: How to Engage? How can brands get seen, liked, and picked by Gen Z shoppers among endless options? We have Bilibili, content creators, and brands with to explore effective connection with Gen Z and to cut ineffective marketing creativity.
15:00
Tea Break & Food Show Tour
16:00
From Short Videos, Live-steaming, E-commerce, Supermarket, to Lifestyle, TikTok Switchs Gears into Full Swing
16:30
New Blue Ocean in Content E-commerce
Marketing Talks
· 6.16 (Day 3)
Growth and Beyond Growth
Construct the Brand Bastion
09:05
The New Era of F&B Industry: Brand Supremacy
09:35
[Panel Discussion] Come Back to Offline
Connect closer with consumers through face-to-face, intermediary-free communication.
10:20
Tea Break & Food Show Tour
10:45
[Panel Discussion] "Sounds" From the Brand Universe
Which sense and medium are left when hands, feet, and eyes are occupied? Ears and sounds.
The average listening time per user on Chinese podcasts hit 4.1 hours in 2022, with monthly income at RMB 14,808. Sound media possesses high potential as it features immersive listening and high user value. How can brands make themselves be heard?
11:30
Trends May Change, But Culture Endures and Creativity Evolves Always
Coca-Cola launched global innovation platform Coca-Cola Creations in February 2022. Consumers can wall into Starlight, experience "Concert on a Coca-Cola" with Ava Max via AR, access the world of Byte Island created in Fornite with Pixel by scanning the QR code on bottle, and indulge in the final chapter of Bleach with Soul Blast.
Food for thought: how should brands build internal culture and value propositions, solidify its identity, and innovate communications by tapping into new technologies and ideas?
Marketing Talks
· 6.16 (Day 3)
Growth and Beyond Growth
Explore the "Universe" of Tech
14:00
Business Cases Will Emerge When Metaverse is No More Hyped
Metaverse under microscope: development history, fundamental technologies, ecosystem, applications, and outlook.
14:40
[Panel Discussion] In Amazement of ChatGPT and Midjourney, What Can be Expected of AIGC in Content Production?
What will be replaced? Where are higher performance and efficiency expected? How innovation can be stimulated?
15:30
Manage User Experience with ISTJ Personality
Digital tools are like the ISTJ personality in MBTI personality test, which are focused, organized, and accurate. They complete each task with meticulousness. It is an easy job to measure and improve customer experience with their help.
16:00
Unfold Media Strategies in Data
SONO Food Leaders Summit
· 6.14 (Day 1)
*Exclusive to members of SONO CEO CLUB and invited guests.
Strategic Decision Making
08:45
The Philosophy of Corporate Value
No matter how to define the upgrading or downgrading of consumption, the increasing impact of quality-price ratio, as well as the fit between brand value and consumer perception is a trend that cannot be neglected. As leaders, how would you define the distinctiveness of your brand value? And how would you deliver your sense of value to consumers? What actions would you take to increase the value of the company?
10:15
Tea Break & Food Show Tour
SONO Food Leaders Summit
· 6.14 (Day 1)
*Exclusive to members of SONO CEO CLUB and invited guests.
Organization and Leadership
10:30
1+1>2: Effective Intergenerational Management
When senior professionals meet with the new generation of "workers", the differences in work experience, personal experience, and thinking patterns may bring potential conflicts to the organization; when the appropriate culture and work processes are established, diversity can build a more robust team - an excellent team with more comprehensive perspectives, more reasonable decisions, more complementary capabilities, and more effective execution.
SONO Food Leaders Summit
· 6.14 (Day 1)
*Exclusive to members of SONO CEO CLUB and invited guests.
14:00
[Digital World] Branding in the Future World: From Mindset to Technology
ChatGPT, Midjourney ...... When technology comes to application, it may have a disruptive impact on human life in a short period.
-How will the technology outbreak affect the way humans understand the world?
-What will brands look like in the future?
-How can companies work with AI employees to lead their brands into the future?
15:30
Tea Break & Food Show Tour
SONO Food Leaders Summit
· 6.14 (Day 1)
*Exclusive to members of SONO CEO CLUB and invited guests.
15:45
Facing the Emerging ESG Trend: Strategies for a Sustainable Supply Chain
With the evolution of business civilization, ESG has become one of the dimensions for evaluating corporate social responsibility and even potential business returns. A sustainable supply chain is an essential part of corporate ESG practices. How to Tailor the General Strategies for your own Sustainable Supply Chain?
Food & Money
· 6.15 (Day 2)
Start Up, Stand Out
09:05
New Investment Relations: Consumption and Investment
Final consumption expenditure, capital formation, and net export of goods and services accounted for 32.8%, 50.1%, and 17.1% of GDP growth in 2022.
What is the cause-and-effect relationship between consumption and investment, and physical economy and finance? How do they move ahead hand in hand?
09:35
[Panel Discussion] Investor + Founder: How to Be 1+1>2?
Competition seems to escalate among investors and founders. How to do empowerment in the food and beverage industry?
10:20
Tea Break & Food Show Tour
11:00
Kinetic Cycle: Spot Propellers in F&B Industry
Besides the ups and downs of economic cycles, where are we in the kinetic cycle?
11:30
[Panel Discussion] Technology as the Primary Productivity Driver
Will technologies build moats for the F&B industry?
14:00
[Panel Discussion] Customer Centricity: What does User Value Mean?
I miss that you were earnest and a bit edgy when we first met, but later you were 'unconsciously changed' by users.
14:45
[Panel Discussion] Core Team Polishing: Happiness and Sorrow
Starting a business is not a team-building activity, which is not always fun. What are the responsibilities of the founder(s) to the team? What does it take for a core team to sail through big waves?
15:30
Tea Break & Food Show Tour
16:00
Overseas Investment: Let Capital Scout for Business
Overseas investment is a choice made by many businesses with globalization and technology evolution.
- Does overseas investment mean only financial contribution to a company?
- Things that companies must think through before going overseas.
16:30
M&As: Assimilating External Factors
How to enhance competitiveness through the integration and assimilation of advantages, technologies, and knowledge in M&As?
Food & Money
· 6.16 (Day 3)
Start Up, Stand Out
09:05
[Panel Discussion] Digital World: Consumption Outlook
What do AIGC technologies and applications have in store for us? How will they change the way we perceive the world?
09:50
[Brainstorming] If I had An AI Colleague
What is working with AI like in the F&B industry? Where AI colleagues can be trusted?
10:30
Tea Break & Food Show Tour
11:00
Odor Visualization: Smell Goes Digital
11:30
[Panel Discussion] Synthetic Biology: Break Boundary of Food
Synthetic Biology is an emerging multidisciplinary field of science that applies combined theories and technologies from biology, chemistry, engineering, and computer science to achieve specific biological functions by redesigning and re-constructing human DNA.
14:00
Start-up Talks
Recruiting! Show time for dreamers and creators!
15:30
Vfood High Tea
- Brand Empowerment Session
- Channel Empowerment Session
FBIF iFood Show · Foodtalks
10:00
Rock on, Frozen Bakery
With tens of billions scale, frozen bakery in China grows at 15%~20% per year. It has inherent advantages in stable supply, long shelf life, and scaled manufacturing. However, it takes a bit more improvement in flavor innovation, taste preservation, and variety expansion in comparison with fresh bakery.
10:30
[Panel Discussion] Approaching the Peak, 3R Food Needs A Bit of Creativity
There are numerous regional flavors in China and each flavor has endless variations. Spiceness alone has shown dazzling versatility, less saltiness, sweetness, sourness...When regional flavored dishes, like Fish and Pickled Cabbage, Pig Intestines with Chicken, approach the peak, it is time to go off the mainstream and seek something new.
11:30
[Pre-Lunch] Start A Meal with Appetizers
FBIF iFood Show · Foodtalks
Convince Ingredient-savvy Consumers
14:00
Say No to "Dark Tech" and Capture Ingredient Tricks
The era of consumers seeking goods out is gone. It is time to find the right consumers and sell well for products. Products shall be precisely aligned with consumer segmentation from the ideation phase. The new generation of consumers want both great flavors and clean ingredients. Why not target your consumers, work on the ingredients, and develop in high accuracy?
14:30
Prebiotics: Energy Bar for Gut Health
New food and beverage products containing prebiotics, something we see often but know little about, register 11.11% CAGR over the past five years. What is it exactly? What are the benefits? How to drive product innovation with prebiotics?
15:00
The Truth of Plant Protein
The global plant protein market is expected to rise from $4.6 billion to $85 billion by 2030. Behind the consumption and capital boom, do people really understand plant protein? It's time to find out the truth!
15:30
Ingredients Mining: New Ores for Health
Behind the trend of functional foods is relentless effort in discovering raw materials. Healthiness and safety of ingredients become key factors in decision-making as consumers are savvier. What are the benefits of insoluble dietary fiber? What surprises resistant starch has to show us when used in food?
FBIF iFood Show · Foodtalks
10:00
Break the Content Bottleneck: Make and Keep are Equally Important
When traffic dividend goes away and louder hawking does not bring more attention, product content and interest content come bottlenecks. Take TikTok for example, content operation costs boosts, and content starts to suffer homogeneity despite a large amount of users. How to break content bottlenecks? How to manage content segmentations? How to reflect true brand value through content?
10:30
Private Domain Maintenance: Traffic Makes Magic
Compared with public Internet domains, private traffic is better poised for social fission, repurchases, fine-grained user management and resource protection. Private traffic makes the pond bigger and closes the loop in the ecosystem, with conversion cost higher and higher. Perhaps it is possible to have it all!
11:00
Aesthetic Value: From A Dividend to A Trend
This generation of consumers care more about aesthetic value than 5 to 10 years ago.
Abuse of trending elements? Too forthcoming? No!
It is time for brands to see aesthetics as a long-term trend rather than a short-term dividend.
FBIF iFood Show · Foodtalks
14:00
Ingredients Kaleidoscope: More and Cheaper
On its way to chef-free, standardization, and branding, the food and drink industry set the bar higher for all suppliers, demanding unique taste memory points and technical unique selling points be created for each brand. But cost is shockingly high! There must be a way to reconcile between cost efficiency and flavor customization.
14:30
[Panel Discussion] Flowing Digital Intelligence, Serial Industrial Chain
The digital intelligence is just like sea, keeping flowing in every part of industrial chain. Although, the digitalization and intelligence of food and beverage industry comes a little slowly, it initially accomplished! Full-chain transparency will make supply-demand coordination easier.
FBIF iFood Show · Foodtalks
10:00
Unstoppable Discount Stores
Some consumers claim eating fresh but are honest with their actions, starting to pay for near-expired foods from discount stores that feature good product selections and yet low prices. On the other side, capital flows in, and brands seize the momentum by developing non-near-expired collaboration products and accelerating distribution in channels. However, it is important to figure out the logic behind the discount business in the first step.
10:30
Reverse Thinking | From Planting Trees to Planting Business
In addition to guavas, prickly pears, and sea-buckthorn berries, products with pomelo as a trending ingredient are gaining popularity in Japan, Europe, and America. However, it is still a blue ocean in China. Perhaps playing it reversely is a good idea—building upstream first and then brand, rather than gaining a quick access to market via contract manufacturing. How to tackle challenges with long-termism? How to build an industry based on deep processing?
11:00
[Panel Discussion] The Capital Game of Suppliers
Upstream suppliers possess materials, technology, and even capital? Suppliers have now put on a different hat, investing in all links of the chain – new consumer brands, raw material suppliers, and processors. What are their tactics in the game? What changes will be brought to the industrial chain and invested companies apart from capital injection?