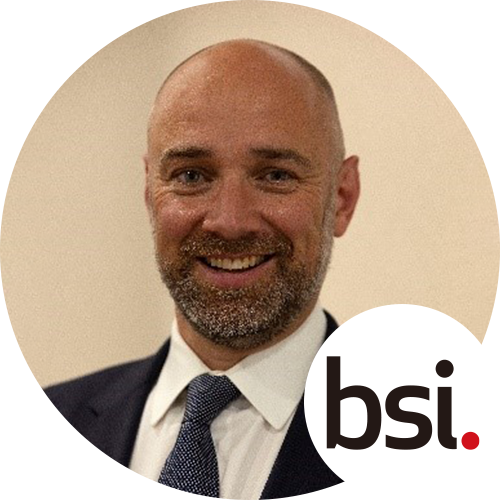 Todd Redwood
Managing Director, Global Food and Retail
BSI
Todd has been helping food-related businesses deliver safe, sustainable and socially responsible food around the world for 30 years. Todd joined BSI Group in 2013 serving various general management roles in Australia, covering food, supply chain and operations.
As the Asia Pacific Director of Food based in Singapore, he was responsible for driving BSI's food sector market entry and growth strategy as well as relationship and resource management across the region. Returning to Australia as the Global Food and Retail Supply Chain Operations and Compliance Director, Todd was responsible for leading all operations, compliance and governance aspects relating to the Food Sector assurance and training business of BSI.
After a short period as the Director Food & Retail – APAC, he is now the Managing Director Global Food & Retail, responsible for engaging the industry and driving BSI's portfolio of solutions to support global brands and retailers to achieve their sustainability, digital trust, health, safety & wellbeing and product quality and safety ambitions across the food and retail sector.
Todd is a member of the GFSI ANZ Local Group, the GFSI Auditor Training and Professional Development working group and the Australian Institute of Food Science and Technology Auditor incubator and development program steering committee.
---
Event Introduction
Plenary Session
 · 06/14 (Day 1)
North Ballroom - Hall 18 1st Floor
Technology · Transformation
Plenary Session
 · 06/14 (Day 1)
North Ballroom - Hall 18 1st Floor
A Time of Resilience
13:30
[In-depth Dialogue] Global Macroeconomic Insights
Global economic growth in 2023 is projected to slow down to 1.7%, according to the World Bank's forecast, the slowest pace outside the 2009 and 2020 recessions in the past three decades. Amid widespread inflation and slower economic growth, emerging markets and developing countries are hindered by multiple factors. What are the future trends of supply chain, energy, commodities etc., as pandemic control is normalized around the world?