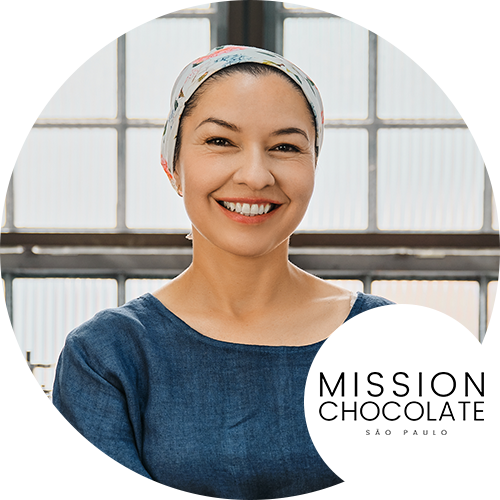 Arcelia Gallardo
Owner and Chocolate Maker
Mission Chocolate
Ms. Arcelia Gallardo has been in the chocolate industry for 20 years - currently her store and chocolate factory in São Paulo produces the most awarded chocolate in all of Brazil with over 60 national and international awards. Ms. Arcelia is the director of Communications for the Bean to Bar Brasil Association and was previously President. In this role she revolutionized chocolate in Brazil by working with many chocolate companies and cocoa producers to improve their products and prepare them for a more demanding market, playing an instrumental role in bringing a globally competitive bean to bar movement to South America.
Her mission is to first use local ingredients that value and respect the history and geography of Brazil and then to pay homage to Brazilian culture and its people. Mission Chocolate is known and respected for creating chocolate that does not exist like the bars Two Rivers, Arroz Doce, Romeo and Juliet among many others.
Ms. Arcelia visits and teaches chocolate making in cocoa growing regions across Latin America, focusing on helping indigenous women and mothers create micro-businesses focused on chocolate.
---
Event Introduction
Snack & Baking
 · 06/16 (Day 3)
Make Snack Delicious And Fun
CC204 - Hall 18 2nd Floor
Ingredients and Products
10:05
The Inspirational Chocolate Creator
Have you ever tasted corn and guava flavoured chocolate? Candied umbu, guavas, warm spices, candied orange peel, cinnamon rice... The inspirations of this master chocolatier never runs out.